Edge Browser in Windows 10 likely to Enhance User Experience
Written by Matt Hensley on 18 May 2015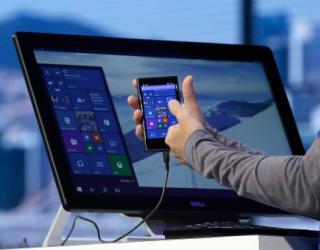 Going by screenshots allegedly from the latest leaked test version, the Edge browser in Windows 10 is delivering promising results. Several new features in Windows 10 can be seen through a series of snapshots snapped by Chinese website ITHome. It appears that a few options are available for Microsoft's Edge browser.
ITHome has listed the 'build' number as 10123, which is a few versions beyond the 10074 build currently available to users of the Windows 10 Technical Preview.
Microsoft has vowed that Windows 10 will be officially available this summer. However, Advanced Micro Devices CEO Lisa Su said in a comment made last month that Windows 10 will debut late July, which won't give Microsoft enough time to finalize the operating system.
Through the Edge Browser, Microsoft is trying to go beyond its legacy baggage of Internet Explorer. IE will be still available in Windows 10 and Edge will be the default browser. Users can experience faster, simpler and sleeker browsers through Edge.
Other advantages that Edge offers are safety for website passwords and forms. The browser is designed to not offer support to extensions typically used by third-party password managers such as LastPass and RoboForm. Also, it would provide option for InPrivate Browsing, a security feature that prevents storage of cookies, browsing history, website cache and login information in the browser.
Edge users will see improvement in their experience as more choices would be available to them over what page they see when they launch the browser. To cite an example, an Edge user could see a list of top sites so that he can select the one that best suits his requirements.
The Backup and Restore feature from Windows 7 will also be revived by Windows 10, which means a user can back up key documents and other files to external media.