A Chance to Carry a Windows PC in your pocket, Lenovo's Ideacentre Stick 300 is Here!
Written by Matt Hensley on 24 Jun 2015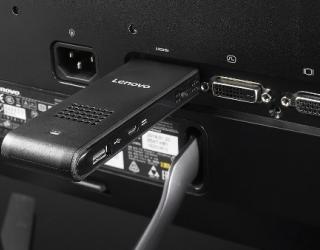 In the latest innovation from Lenovo, the company has ventured into the PC stick market with its Ideacentre Stick 300. This tiny stick can be plugged into any TV or monitor to convert it into a Windows PC.
The stick is just 100 x 38 x 15 mm, still, it provides a full-fledged computing experience when connected to a TV or monitor. Its specifications include an Intel Atom processor (Baytrail), 2GB of RAM, 32GB of storage, SD card reader, HDMI, and a microUSB 2.0 port. It also has Wi-Fi b/g/n for connectivity and Bluetooth 4.0 for use with wireless peripherals.
All the user needs to do is plug in the Stick into the TV or monitor, add a wireless keyboard and mouse, and enjoy the experience of a full desktop PC. The company as a promotional offer has also included a 3-month trial for Microsoft Office 365.
In a statement, Lenovo said, "Designed for consumer usage in the home and on-the-go, the new pocket-sized compute stick is powerful enough for entertainment and web browsing, while affordable enough for existing PC owners to justify owning a second or third mobile PC option".
The Ideacentre stick would be available later this year and can be ordered with either Windows 8.1 with Bing or Windows 10. However, those who buy it with Windows 8.1 will get a free upgrade to Windows 10. Coming October, it will hit the market and also be available on Lenovo's web site at a starting price of $129.