Ridley of Patriots looked to avoid fumbles on Thursday
Written by Meagan Roberts on 06 Jun 2014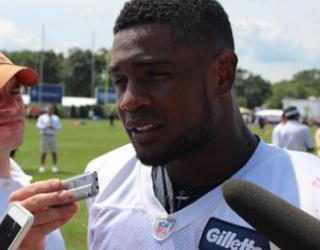 Stevan Ridley of New England Patriots only concentrated on avoiding fumbles as the team continued their organized team activities.
The rain presented a challenge to the team but Ridley gripped the ball tight to avoid fumbles. He had earlier lost fumbles in three consecutive games in the previous season and was benched for the rest of New England's 34-31 comeback win in overtime against Denver Broncos on 24 November, 2013. He lost a total of four fumbles in the previous season that led to three touchdowns and a field goal against the team. During this season, he is looking to avoid the mistakes of the previous season.
"All you can do is to really squeeze the ball high and tight. I think that was a lesson I had to go through and, hopefully, I won't have to go through it again, but who knows? You take your mistakes, you learn from them and you grow and you just keep on pushing,"Ridley said.
He said that the players can lose playtime as they lose focus on the small things.