My son is not a thief: Dallas Cowboys running back Joseph Randle's father argues
Written by Meagan Roberts on 15 Oct 2014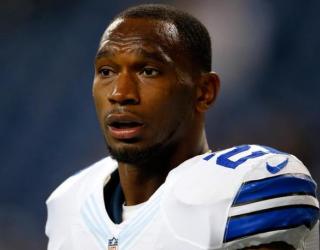 Dallas Cowboys running back Joseph Randle's father has defended his son, saying his son is not a thief. Randle was on Monday arrested by police on Monday evening for shoplifting a perfume bottle and a pack of underwear at the from a suburban Dallas department store called Dillard's at Stonebriar Mall.
But, his father argued that Randle was just trying to get his baby out of the department store because she was fooling around pretty bad.
Defending his son, Mr. Randle said, "My son is not a thief, okay? He was just trying to get his baby out of there because she was clowning pretty badly. All he was going to do is take the baby out and then he was going to come back and take care of his business."
Frisco police spokesman Chad LaPrelle confirmed the arrest, saying police were called by employees of the department store at 8:17 p. m., after the store's loss prevention employees detained Randle stealing products. His illegal act was reportedly captured on surveillance camera.
According to the arrest report, Randle attempted to steal a pack of black Polo underwear valued at $39.50 worth and a bottle of Gucci Guilty Black cologne worth $84.
The running back was arrested and charged with theft, a Class B misdemeanor. He was released from Frisco City Jail on Tuesday after he signed a $350 bail.