Texas becoming too much like California: Greg Abbott
Written by Eric Tapia on 09 Jan 2015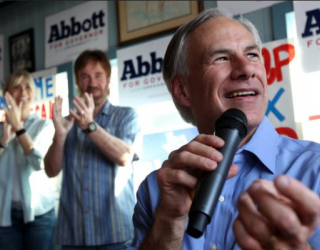 Texas Gov.-elect Greg Abbott on Thursday expressed his concern that the Lone Star state is becoming too much like California by following the Golden State's policies.
Delivering a speech at the Texas Public Policy Foundation, Mr. Abbott said several of Texas localities are quietly passing and implementing the kind of far-reaching environmental laws like those of California, such as plastic bag bans and fracking bans.
Speaking on the topic, he said, "Texas is being California-ized and you may not even be noticing it. This is being done at the city level with bag bans, fracking bans, and tree-cutting bans. We're forming a patchwork quilt of bans and rules and regulations that is eroding the Texas model."
The Republican leader, who is scheduled to be sworn in as the state governor on Tuesday, stressed that such local bans and ordinances would threaten private property rights.
He pointed out that some of the Texas cities claim that the trees on private properties don't belong to the owner of the property; rather they belong to the community.
Voters in Denton town of the state, which is located nearly forty miles to the north of Dallas, passed the state's first ban on hydraulic fracturing in November last year. The local ban has been challenged in court. Hydraulic fracturing is a highly controversial method of extracting gas and oil trapped deep under the surface of Earth by pumping water mixed with sand and certain chemicals into the Earth. Opponents say it hurts environment, while proponents say it is an easy way to meet soaring demand for oil and gas.
Mr. Abbott argued that unchecked bans by cities would turn the Texas miracle into the California nightmare faster than one can expect.