FDA Asks For Immediate Recall of Two Pet-Food and Treat Products
Written by Leah Gardiner on 16 Feb 2015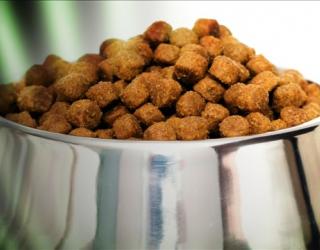 The US Food and Drug Administration (FDA) announced that two pet-food and treat products were recalled this week due to a potential contamination from salmonella.
The Minnesota Agriculture Department has asked people to voluntarily return Nutrisca Chicken and Chick Pea Recipe Dry Dog Food, made by Tuffy's Pet Foods in Perham, due to a potential salmonella contamination.
Tuffy's Pet food has a nationwide supply. The products were recalled from different brokers, distributors, retail stores and Internet retailers, said sources.
The recall is limited to Nutriscan Chicken and Chick Pea Recipe Dry Dog Food in 4-pound bag sizes, bearing UPC Code '8 84244 12495 7', made by Tuffy's Pet Foods, of Perham, Minnesota, said FDA.
It also said that the products can be identified by the below first 5 digits of the Lot Code, found on the upper back of the bag. Apart from the above mentioned products a 1,500 unit of 6 inch Beef Trachea Pet Treat was also recalled.
The recalled 6 inch Beef Trachea Pet Treat, made by Pet International of Miami was distributed to several retail stores in Conifer, and Lakewood in Colorado.
FDA said in a statement that it was necessary to recall these products as salmonella can affect dogs eating the products.
It can also be harmful for people handling contaminated pet products in case they have not thoroughly washed their hands after having contact with the products. The FDA has recommended people that if they have such food or treats, then they should immediately stop using them.
It also recommended putting the product in a double bag, using gloves and throwing away the food or treats away as soon as possible.
Healthy people infected with salmonella should monitor themselves for nausea, vomiting, diarrhea or bloody diarrhea, abdominal cramping and fever, said FDA.