MMS lifts off from Cape Canaveral Air Force Station
Written by Molly Solana on 13 Mar 2015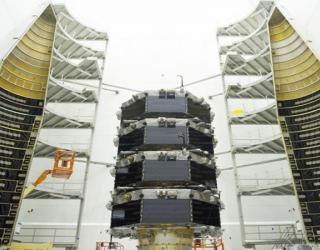 On Thursday, NASA launched four spacecraft with the aim of studying Earth and sun's magnetic collisions. Unmanned Atlas rocket, the agency's Magnetospheric Multiscale spacecraft (MMS), was scheduled to be launched at 10.44 pm ET on Thursday.
The United Launch Alliance Atlas V rocket lifted off from a launch pad at Cape Canaveral Air Force Station at 10:44 pm (0244 pm GMT March 13). And with this, NASA's four Magnetospheric Multiscale satellites (MMS) were sent to collect information regarding magnetic reconnection events in Earth's magnetic field. A stunning video of the nighttime MMS satellite lift off has been captured by NASA.
The MMS mission will be studying magnetic reconnection, the main reason behind space weather, which consists of solar flares and coronal mass ejections, in addition to the auroras at the north and south poles and geomagnetic storms.
According to principal investigator Jim Burch from the Southwest Research Institute in San Antonio, electron scale will be used for measurements, which is considerably smaller than earlier helio-physics missions.
According to Burch, "We're not setting out here to solve space weather. We're setting out to learn the fundamental features of magnetic reconnection because that's what drives space weather".