McDonald's to Introduce Trio of 'Sirloin Third Pound' Burgers
Written by Erica Crabill on 08 Apr 2015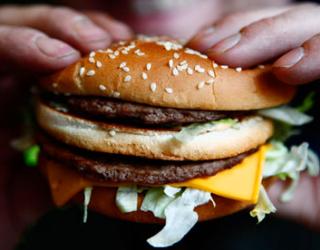 McDonald's announced that it is introducing a trio of 'Sirloin Third Pound' burgers for a limited time period starting this month.
The initiative is one of the measures being taken by the company to improve perceptions about the quality of food. The sirloin burger will have the biggest beef patty that the chain's menu has. The burger will cost around $4.99, but franchises can decide their own prices.
It will come in three varieties - Lettuce & Tomato, Bacon & Cheese and Steakhouse. The burgers will come with grilled mushrooms and onions, white cheddar and peppercorn sauce.
McDonald's is taking steps improve its image and to revive its business in the US market. In the United States, the fast food giant has been witnessing a decline in sales and customer visits for two years in a row.
This year, the company has made many announcements, like the introduction of grilled chicken recipe, limiting the use of antibiotics in chicken and increase in salaries of workers and vacation time for workers at company-owned stores.
The company said that it is also planning to come up with a program that will allow its customers to make their own burgers by just tapping touchscreen. Last week, CEO Steve Easterbrook said that he is taking steps to transform McDonald's into a 'modern, progressive burger company'.