Two Dutch Polar Explorers presumed Drowned in Arctic
Written by Molly Solana on 06 May 2015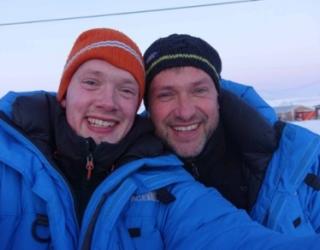 On Monday, police said that two Dutch explorers studying melting Arctic sea ice have apparently drowned after falling through thin ice.
The explorers, Marc Cornelissen and Philip de Roo were last seen on April 6, when they were heading north on skis from Resolute, Canada's northernmost outpost.
Last week, their base camp received an automated distress call, following which the camp immediately sent an aircraft to pick them up. But the plane was unable to land on the ice, as the ice was deemed too thin to support its weight.
They spotted the researchers' equipment and a sled dog in the vicinity of the beacon, near a hole in the ice. But, the two men were found nowhere.
Royal Canadian Mounted Police Sergeant Yvonne Niego told AFP, that there are a lot of chances that they have drowned after falling through the ice.
According to the Cold Facts organization's website, the explorers were on sixty days mission to collect data for climate research in an area where summer sea ice cover was expected to be most resilient to warming.
One of the scientists last Tuesday reported warmer than expected temperatures and thin ice ahead of them, about 200 kilometers (125 miles) north of Resolute.
In the voice recording that was posted online, Cornelissen said that 'Today was a good day'. But he added that it was too warm, as a result of which he was led to ski part of the way in just his underwear and boots.
Due to the hazardous weather conditions the rescue teams were out of the area, but now the search efforts are in effect again. Keeping in mind the conclusions based on evidence found at the camp, there are chances that the search and rescue will turn into a body recovery mission.