Series of Tornadoes kill two, leave Dozens Injured and 10 Missing in Arkansas, Texas
Written by Hallie Bins on 11 May 2015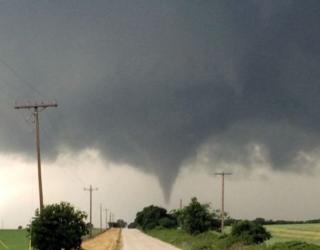 On Monday, local officials affirmed that a series of tornadoes have devastated the Great Plains states overnight. Due to the incident, at least two people have died and many others have been injured and 10 are missing in northeast Texas and southwest Arkansas.
Late Sunday, many tornadoes hit the area in which two people who lived in adjoining mobile homes in Nashville, Arkansas, died. Howard County Sheriff Brian McJunkins affirmed that two other people are severely injured.
At around 8.45 pm, a similar tornado affected the small city of Van in Van Zandt County. Chuck Allen, the Van Zandt County fire marshal and emergency management coordinator, said that the storm damaged around 30% of the city.
A new conference was organized on Monday in which Allen shared that 10 people are missing and 26 were taken to hospital, but severity level of their injuries is not clear. Owing to the storm, around 50 people had to take shelter in church.
"Damages range from completely destroyed homes, damaged homes, to trees and power lines down", affirmed Allen. Authorities concerned are doing their task and have been visiting every house of the city to know about the injured people. The city has around 2,600 people.
In this tough time people are coming forth and fulfilling their moral responsibility. Utility companies have been working to restore infrastructures and road and bridge workers have been working to open streets and highways.
The American Red Cross has decided to open a shelter at shelter at First Baptist Church in Van. Schools announced that they would remain closed. Senior meteorologist Eric Martello said that the National Weather Service is of the belief that at least one tornado had hit Van on Sunday night.