Biker Gang Violence in Texas claims 9 Lives
Written by Marissa Goheen on 18 May 2015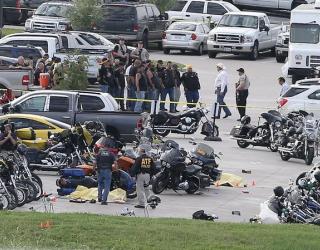 A meeting to settle disputes over territory and recruitment ended up in killing nine members of rival Texas motorcycle gangs and 18 others were left injured. The meeting suddenly turned into a scuffle and shooting began outside a Waco restaurant.
A busy shopping center along Interstate 35 was crowded, including families marking Baylor University's graduation this weekend, when the violence kicked off. According to Waco police Sgt. W. Patrick Swanton, the shooting incident claimed lives of eight people at a Twin Peaks restaurant and another person was pronounced death after being taken to a hospital.
All those killed and injured belonged to one of at least five biker gangs who had gathered for a meeting at the restaurant. "This is probably one of the most gruesome crime scenes I've ever seen in my 34 years of law enforcement. Within 25 feet there were families eating dinner ... I was amazed that we didn't have innocent civilians killed or injured", said Swanton.
Detention of at least 100 people was done by the police for questioning regarding the incident. Swanton said that what has appeared from preliminary findings is a dispute in a bathroom led to violence using knives and firearms. It eventually spread into the restaurant parking lot. Between 150 and 200 gang members were present inside the restaurant at the time. Swanton said the firing was happening both inside and outside the restaurant.
Police had the information of the meeting and deployed at least 12 Waco police officers in addition to state troopers outside the restaurant. Swanton said that restaurant operators were also aware of the meetings in advance. He criticized the management for providing no support to authorities to take appropriate action at the right time to address concerns.