'Forever Remembered' memorial opens its doors for the public
Written by Molly Solana on 28 Jun 2015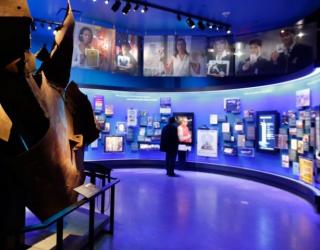 A new exhibit has been opened at Kennedy Space Center Visitor Complex in remembrance of more than a dozen astronauts who lost their lives on STS-51L and STS-107 missions of Challenger and Columbia space shuttles.
The "Forever Remembered" exhibit opened its doors for the public Saturday morning, June 27, 2015. NASA Administrator Charles Bolden and Kennedy Space Center Director Bob Cabana jointly opened the exhibit, and families of the crews who lost their lives in the two missions were also present at the opening ceremony.
Addressing a small crowd, Bolden said, "The crews of Challenger and Columbia are forever a part of a story that is ongoing. It is the story of humankind's evolving journey into space, the unknown, and the outer-reaches of knowledge, discovery, and possibility. It is a story of hope."
Cabana said he felt that it was important to share the stories of the two failed missions and the loss of astronauts with everyone, rather than pushing it aside or to conceal them.
It displays the astronauts' various family photos, cowboy boots, Michael Anderson's vintage Star Trek lunch box, a Bible that belonged to Rick Husband, and a small hand-carved aircraft that Michael Smith had made for his wife.
In addition to the astronauts' personal collections, the exhibit shows the shuttle hardware and the physical damage that they suffered during the crashes. It displays part of the fuselage from the Challenger, and flight deck windows of the Columbia space shuttle.