Carnival cruise ship health worker tests negative for Ebola virus
Written by Leah Gardiner on 20 Oct 2014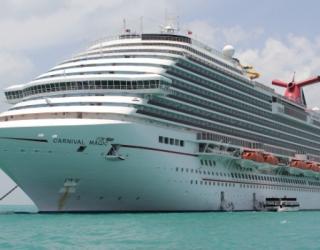 The health worker whose presence on a Carnival cruise ship triggered panic among thousands of other passengers last week has been tested negative for Ebola virus, the Galveston Port Director announced.
Port Director Michael Mierzwa confirmed on Sunday that a blood test showed that the female health worker, a laboratory supervisor at Texas Health Presbyterian Hospital where an Ebola patient died, wasn't infected with the deadly virus.
The health worker was among more than 4,000 people who were on a seven-day cruise around the Caribbean. But, when it was discovered that the health worker handled specimens from an Ebola patient who later died, the cruise turned into a floating nightmare for passengers.
The Carnival's Magic ship returned to Galveston Port on Sunday without completing the trip. The cruise company apologized to its passengers.
Apologizing to its passengers, Carnival said in a statement, "We greatly regret that this situation, which was completely beyond our control, precluded the ship from making its scheduled visit to Cozumel and the resulting disappointment it has caused our guests."
Doctor took blood samples from the health worker and her husband. Both tested negative for the virus. Samples handled by the worker were taken back to Ellington Field through a helicopter. From there an aircraft took them to Austin-based laboratory of the Texas Department of State Health Services.