Remains of over 300-year-old French ship being reassembled
Written by Molly Solana on 25 Oct 2014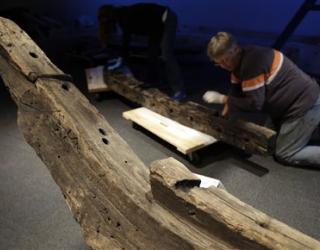 Remains of a frigate that sank due to a powerful storm off the coast of Texas more than three centuries ago are being reassembled at the Bullock Texas State History Museum to allow people to walk over the hull and feel like they are on the ship's deck.
The 54-foot oak frigate La Belle was carrying French colonists to the New World when it sank off the Texas coast in 1686.
The La Belle expedition was led by Mississippi River explorer Rene-Robert Cavelier Sieur de La Salle. Its collapse is blamed for dooming France's further exploration of what would become Texas and the Southwest region of America.
But La Salle's Fort St. Louis near the shipwreck site in Matagorda Bay, which is situated nearly one hundred miles southwest of today's Houston, convinced Spain to increase its presence in the region to defend against potential French territorial expansion.
Jim Bruseth, curator of the La Belle project, said, "In a very real way, it's responsible for our Hispanic heritage we have today. History oftentimes turns on seemingly small events. We have that actual ship, the remains of it here, that's the icon of that event."
Starting this Saturday, visitors to the museum will be able to watch Bruseth and other archaeologists reassembling the wrecked ship and talk with them as they work. The reassembly of the historic ship is expected to be complete by spring.