Texas Health Presbyterian Hospital Dallas Recognized for Exceptional Care of Nation's First Ebola Patients
Written by Leah Gardiner on 04 Dec 2014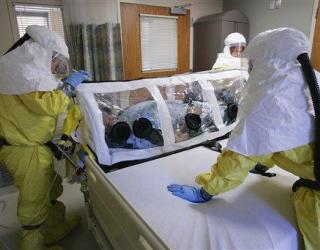 The Dallas Regional Chamber recognized the efforts of Texas Health Presbyterian Hospital Dallas in handling the nation's first Ebola cases. The hospital was presented with the Courage in Public Service award for 'heroic performance and exceptional care during our Ebola crisis'.
Initially, questions were raised on the care of Texas Health Presbyterian as it misdiagnosed the country's first Ebola patient, Thomas Eric Duncan, a Liberian man. They sent Duncan home from the hospital and was later admitted and attended by a team of medical specialists. Duncan died in October.
On September 25, Duncan went to the hospital and was later sent home with antibiotics. On September 28, he was diagnosed with Ebola virus and later died on October 8. Two nurses who helped Duncan during his treatment, Nina Pham and Amber Vinson, were also infected with the virus.
They were treated in isolation at speciality hospital and were later released once they became disease-free.
But since then, it made tremendous efforts to stop the spread of the disastrous virus in the nation. Steve Mansfield, chairman of the board of the chamber and president and CEO of Dallas-based Methodist Health System, affirmed at luncheon that the medical staff, the nursing staff and the support staff of the hospital has done tremendous hard work.
"Many of their stories we will never know, but I can imagine and you can too, the things that they went through and the challenges they had being the first hospital in America to deal with this Ebola patient", affirmed Mansfield.
Mansfield affirmed that the hospital has become an inspiration for other hospitals. Texas Health Resources CEO Barclay Berdan appreciated the chamber for the award. He also thanked medical institutions that have helped during the Ebola crisis.
Texas Health Presbyterian Hospital Dallas will continue to provide quality care, which it has been providing to the community for more than five decades.