Icy weather blasts parts of Texas
Written by Victor Cozad on 02 Jan 2015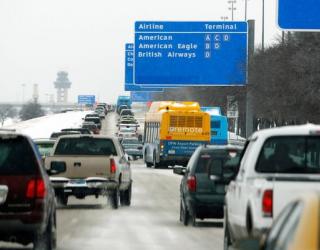 As a blast of arctic air swept the Southwest, winter storms brought a bitterly cold end to the year 2014 on several Texas roads, disrupting many people's New Year travel plans.
Travelers in much of West Texas were forced to face ice and snowfall on Wednesday, with freezing rain and significant amount of snowfall on Thursday. The heavy snowfall made roads and highways slippery and treacherous from the Panhandle South to San Angelo. The U. S. 67 in Brewster and Pecos counties was shut down because of accidents on the slick surfaces.
Earlier on Tuesday night, Lubbock received roughly one inch of snow, which covered a layer of ice formed from preceding freezing rainfall.
Fort Worth-based weather service meteorologist Tom Bradshaw predicted, "We have increased confidence that we're going to see some icy conditions late tonight and into tomorrow. The further west you go, the greater the confidence that there will be slick conditions."
Ranger Hill, 300-foot-high hill in Eastland County, proved a headache for motorists once again. During previous icy conditions, the hill on Interstate 20 proved perilous.
Witness reports from Kimble County, west of Kerrville and east of Junction, indicated that some motorists turned around to head back to San Antonio and others left their vehicles to walk to a service station after traffic backed up for miles.
The Texas Department of Transportation (TDT) cautioned that road delays because of adverse weather conditions could worsen in the next 24 to 36 hours.