Storm likely to Cause Flooding near Colorado Burn Scars
Written by Jacqueline Tobaben on 19 May 2015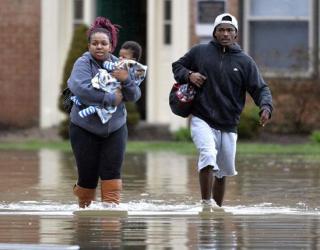 Areas stripped bare by forest fires are now engulfed by flood risks because of damp weather across the West. Some areas of northern Utah experienced 2 inches of rain dumped by a storm over the weekend. This resulted in minor flooding and a rock slide. The storm has moved into Colorado, which has already suffered from several days of rain. It is expected that the snow level in the eastern mountains would touch 2 feet mark on Tuesday.
The unusually cold and damp weather is being driven by pacific storm systems, said National Weather Service meteorologist Mark Struthwolf. He attributed these latest patterns of disruptive weather to dissipation of a weather ridge that protected the West from storms all winter. Struthwolf, who is based in Salt Lake City, said the current situation has set for one storm after another.
Pamela Evenson, a NWS meteorologist in Pueblo, said Colorado is highly likely to see a storm on Monday night and remain for the whole day, dropping about up to 2 inches of rain in some areas.
Warnings have been issued by forecasters over the high possibility of flooding on two burn scars left by devastating wildfires in the Colorado Springs area in 2012 and 2013.
"Those are our main concern areas with the system coming in. The soils are pretty much saturated in that area. It's rained pretty much every day", said Evenson.
She said that Teller and El Paso counties will see a flash flood watch in effect until Tuesday morning. The storm is expected to move out of the state by Wednesday.
May brings excessive rain in Colorado, and it has so far rained almost every day this month.