New England witnesses 30 inches of snow from blizzard
Written by Victor Cozad on 28 Jan 2015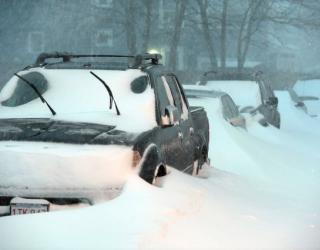 A record-setting blizzard, with winds over 70 mph, has led to many problems for the residents in New England. Boston and other parts of Massachusetts have witnessed more than 2 feet of snow due to the storm, which could end up as the most strong storm system in the history of the region.
There was a record of 18.5 inches of snow in Boston on Tuesday, which broke the previous record of 8.8 inches of snow that was set in 2011.
There were power cuts in thousands of houses, which include all of Nantucket Island. According to Nantucket officials, all public school, private schools and town offices will be closed on Wednesday.
Parts of Connecticut, Maine, Massachusetts, New Hampshire, New York and Rhode Island have experienced over 25 inches of snow.
The National Weather Service also reported about 20 inches of snow in Portland, Maine; 32 inches in Hudson, and 30 inches in Orient on New York's Long Island.
The hardest-hit area is Auburn, Massachusetts, which got 32.5 inches of snow. According to Governor Charlie Baker, this was the most significant storm and could be labeled as an historic event.
The travel ban in Rhode Island that was put on Monday remains in effect. Rhode Island State Police Col. Steve O'Donnell said, "We're asking everybody to stay off the roads. You got a day to take time to be with your family-do that".
The coastal flood warning remains in effect for the shoreline of Massachusetts until 8 pm. More than 7,700 flights in and out of the Northeast have been canceled, and many of them may not take off again until Wednesday.
Officials warned that the storm could turn 58 million people's lives upside down. Seven states, from New Jersey to New Hampshire, have declared emergency. Businesses and schools were closed as public transit has shut down.