Over 1,000 flights canceled in Texas due to massive storm
Written by Eric Tapia on 28 Feb 2015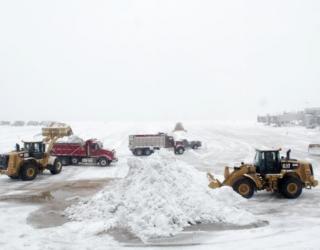 The massive storm in Texas and Oklahoma has led to cancellation of more than 1,000 flights at the Dallas Fort-Worth International Airport. The storm was moving east, across the plains, according to latest weather report. It could lead to more snow in Kentucky and Illinois.
Following the cancellation of more than 600 flights on Friday, the air traffic has been disrupted due to heavy snow in many regions. Nearly 5,000 passengers were forced to spend the night at the airport. The airport provided blankets, cots and other important supplies to the stranded passengers.
The temperature in Chicago was -10F on Saturday morning. In many regions across Oklahoma and Arkansas, snowfall was reported.
Weather experts have predicted heavy snow in Pennsylvania and eastern Ohio. Over the weekend, Texas is expecting rain in most of the regions. The air traffic could improve soon.