New 'Meerkat' live-video streaming app captures Twitter users' attention
Written by Matt Hensley on 12 Mar 2015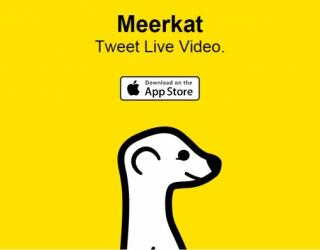 Within weeks of its official launch on February 27, the new 'Meerkat' live-video streaming app has become quite a rage with the users of the popular microblogging service Twitter.
The Meerkat app gives Twitter users the ability to stream live video from their mobile device to all their followers on the microblogging site. Currently, the Meerkat app is available for the users of iOS mobile devices; but an Android version of the app is reportedly being developed.
Users of iOS devices can download the Meerkat app from the iTunes store. Upon the installation of the app on an iOS device, users can log in; with all the details explained by Twitter and the app itself.
For streaming live video, the Meerkat users have to press the 'stream' option; and to conclude the streaming process, users have to press the 'stop' button. A copy of the video streamed by the Meerkat users can also be saved by the users on their iOS devices.
Against the backdrop of the fact that the Meerkat live-video streaming app has captured the attention of millions of Twitter users within weeks of its launch, Jon Ward - senior political correspondent for Yahoo News - said that though the app does not involve any revolutionary technology, its most captivating aspect is that it is "a mixture of timing and simplicity."