Texas bus crash claims 2 lives, injures 10 others
Written by Victor Cozad on 04 Jun 2015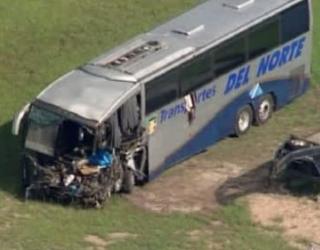 A bus crash in the eastbound lanes of Interstate 10 at Weimar in Texas left two people dead and around a dozen others injured on Wednesday, the state Department of Public Safety confirmed.
The Transportes Del Norte bus crashed at around 12:30 p.m. in a construction area as traffic immediately stopped in front of the bus. The bus was traveling from Laredo to North Carolina.
The accident claimed the lives of the bus driver and a passenger. Ten people received non-life threatening injuries. They were rushed to nearby hospitals.
Many other vehicles were also involved in the chain-reaction collision but no other injuries were reported. A car was also crushed in the accident but the car's driver was not hurt. Susan James, the car's driver, said that an angel might be sitting on her shoulder that saved her life.
Sharing her experience, Susan said, 'It started spinning me around, and I just put my head down under my arms and, um, rode it out. I just think God was watching out for me, and I had an angel sitting on my shoulder."
The Mexican bus company did not immediately responded to a request for a comment on the deadly crash.