C&L Aerospace Shifts to Bangor from Augusta
Written by Erica Crabill on 18 Jul 2014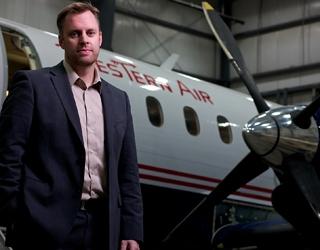 C&L Aerospace, an aircraft parts and maintenance company, opened its new facility at Bangor International Airport. The inauguration of the facility was done today. The 30 million dollar company has left Augusta and shifted to Bangor. The facility has been operating for the past few months, but all business has started to operate from Bangor today only.
C&L was moved to Maine from Australia in 2010 by CEO Chris Kilgour. During that time, the company purchased Telford Aviation in Augusta and used that building for operations. After four years now, the company is moving to its new $5 million Bangor facility. The infrastructure of the new facility is three times the size of its old building in Augusta.
When the company started in the US, only 20 people were employed by it. But, its employee strength has soared to 120 now. Kilgour said that he always had this idea that Bangor was the best place to move his company into. "As I came to live here and I saw what was going on, the work ethic of the people of Maine, and the welcoming that we got from the city and from the airport, it was really a no-brainer", Kilgour said.
The company wants to increase its number of employees with its growth. Maine Magazine recently named Kilgour as one of the 50 people making a difference in Maine.
C&L has the new headquarters now, sprawling over 100,000 square feet. Plane owners love to shop from C&L, which is involved in selling from sewn airplane seat covers to an extensive inventory of parts. Kilgour said that they do the maintenance, painting, and interior and supply the parts in order to save time and money for the owners.