19 Solemn Bells honor Tucson Shooting Victims
Written by Marissa Goheen on 09 Jan 2015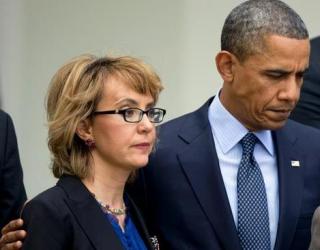 A special event was organized on Thursday by Former Arizona Rep. Gabby Giffords to honor the victims of a shooting in Tucson that took place four years ago on January 8, 2011.
In the event in which 19 solemn bells were used, was not attended by Giffords, but she met President Barack Obama as a part of the fourth year anniversary of the mass shooting. In the tragedy, six died and 13 were injured.
"It was four years ago today that Gabby and some other wonderful Arizonans were gunned down outside a supermarket in Tucson. It's a tough day for a lot of folks down there. We keep them in our thoughts and prayers", said Obama.
Obama praised Gabby and said that she is a hero and a great Arizonian and they all are proud of her. The ceremony took place in Tucson at 10.10 am and bell-ringing ceremony was conducted for each of the 19 victims of the attack.
Tucson Mayor Jonathan Rothschild also hosted a bell-ringing ceremony at a fire station downtown. Former Arizona Rep. Ron Barber, who was wounded in the shooting and attended the ceremony, said that it is important not to forget what had happened as there are a number of lessons that can be learnt from them.
Giffords has verified on Twitter account also that she did not take part in any public events. She said that she was shot four years ago and since then, she has made progress step by step and thinks that they all have to move ahead.
Peter Rhee, chief of the trauma department at the University of Arizona Medical Center, saved the lives of Giffords and others who were wounded during the shooting. Rhee said that many positive things have taken place after the tragedy.