Google adds car insurance to its 'Google Compare' suite
Written by Matt Hensley on 08 Mar 2015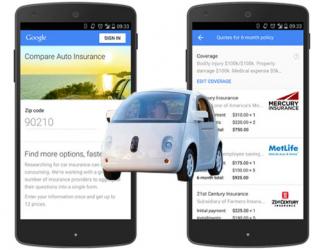 Google has recently announced a new addition to its 'Google Compare' suite of products --- car insurance. The addition of the new car insurance option to Google's comparison-shopping website has been designed with the objective of helping people make "confident, more informed financial decisions."
The 'Google Compare' car insurance option enables people to compare rates from different insurance carriers. The option has initially been introduced by Google in California; with the option to be made available in other states in the future.
About the new car insurance comparison option for the 'Google Compare' site, Google has said in a recent missive sent out to insurance providers, via a blog post, that "people searching for car insurance on their phone or computer can find you along with an apples-to-apples comparison of other providers - all in as little as 5 minutes."
In addition, Google has also asserted in the blog post that the car insurance comparison option will allow insurance provides to "highlight what makes your business unique, whether that's an 'A' rating in customer service or better discounts for safe drivers."
For the car insurance comparison website, Google - which is licensed to sell auto insurance in 26 states - has presently partnered with MetLife, Mercury Insurance, The General Insurance and Kemper Specialty.