First Day of Shopping Bag Fee goes well in Dallas
Written by Jennifer Vellucci on 02 Jan 2015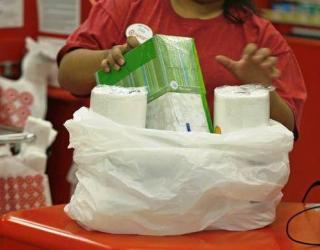 Employees and customers in Dallas appeared to be quite prepared on Thursday, the first day of Dallas' new shopping bag fee. Workers at many retail outlets were instructed how to add the 5-cent-per-bag charge to customers' total bill. The workers at the retail stores handling this task have to scan a bar code near their registers for each single-use bag, either a paper or plastic bag, which a customer needs.
Most of the customers did not have any issue on paying for their shopping bags. Where some customers were paying fee for the bags, some of them were also seen carrying their own shopping bags.
After talking to the workers at the retail stores it was found that some customers thought paying for a bag as an additional expense. Therefore, they went out of the store holding their material in their hands.
Target's reusable bags are slightly larger than the bags it used to have earlier, so that customers can fit more into each one. The store even paid its customers 5 cents if they carried a shopping bag along with them.
In addition, numerous cities in California have enacted restrictions on plastic bags in recent years and in August 2014, the state became the first to ban single-use plastic bags at large retail stores. The ban will come into effect from July 1.