Two Police Officers shot outside Ferguson Police Department
Written by Jacqueline Tobaben on 12 Mar 2015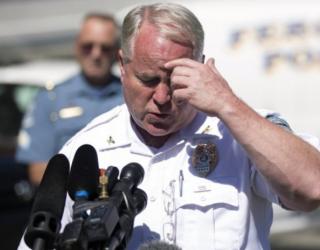 Acting Ferguson police chief Lt. Col. Al Eickhoff said bullet injuries have been caused to two St. Louis County Police officers after they were shot outside the Ferguson Police Department early Thursday. The two police officers were immediately taken to hospital in ambulances, said Bob Hoehn, a KSDK-TV photographer.
One was admitted into Barnes-Jewish Hospital, a Level 1 trauma center and the teaching hospital for Washington University School of Medicine. Treatment was provided to the other officer on the crime scene itself.
While giving update about the health condition of the two officers during a press conference around 2 am, St. Louis County Police Chief Jon Belmar said one officer was shot in the shoulder, and the other in the face.
US Rep. Lacy Clay of Missouri's 1st District said the shooting incident was deplorable. Police stood in riot gear Wednesday evening outside the police department. People were protesting in the streets and some of them criticized the officers for wearing uniforms from other jurisdictions.
It has yet not been determined which police department the injured officers belonged to. Police reaction to the gunshots led to the people crawl on the ground, which is showed by a Vine posted St. Louis County Alderman.
Unrest and violence were triggered in the St. Louis suburb after white Ferguson police officer Darren Wilson shot to death an unarmed African-American teen Michael Brown on August 9.
Justice Department found nothing to impose Justice Department on Wilson for Brown's killing. Ferguson officials made an announcement earlier in the day on Wednesday that Police Chief Thomas Jackson will resign on March 19. His department drew flak from the Justice Department for racially biased policing
The resign will make Jackson, 57, the third top city official to step down following the release of the Justice Department report.